It goes without saying but I'm going to say it anyway: Facebook today is significantly more complex than it was when it was first launched to the general public years ago. At the beginning, they only offered users profiles. Now we can create all sorts of presences on Facebook: Profiles, Pages, and Groups.
Each one is distinctly different from the others and thus needs to be used differently. In this blog post, I'll be explaining the difference between each and giving you tips on how you can use them. I'd love your feedback so if you have any comments or questions, comment below!
Facebook profiles
The quickest way you can tell if something on Facebook is a personal profile is if you can add friends or request someone be your Facebook friend. See the image below.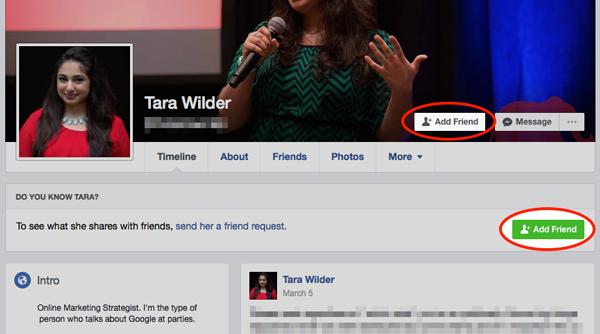 How you should use your profile
The general population typically use their Facebook profiles to share their thoughts, news, photos, etc. with their personal connections (family and friends).
Sometimes people will add coworkers or professional contacts.
In my experience as a business owner who networks a lot, business owners who also network often add each other. This is a great way for them to cultivate relationships with one another to either pass referrals to each other, collaborate with each other, or even work together.
Whether or not you choose to add professional connections on Facebook is 100% up to you. It won't make or break your business.
Tip
Facebook is ubiquitous. Because it's currently the top social media channel, in some cases, it can be just as effective as LinkedIn in terms of building and cultivating a professional. For some businesses, I'd argue that it can be more effective than LinkedIn. Note that I said "for some businesses". This doesn't apply to everyone.
I highly recommend that if you are a business owner who networks (both online and/or offline) to consider adding people in your professional network to your friends list. Like I said earlier, this is a great way to keep in touch with people in your network which is what networking is all about.
Warning
It is against Facebook's Terms & Conditions to use a personal profile as a business. Your personal profile "name" cannot be the name of your business. It's also against their Terms & Conditions to sell your products through your profile.
Facebook Pages
This is also known as a "fan page" or "business page". How you can quickly tell if what you're seeing on Facebook is a Facebook Page, see if you can "like" the page. See the image below.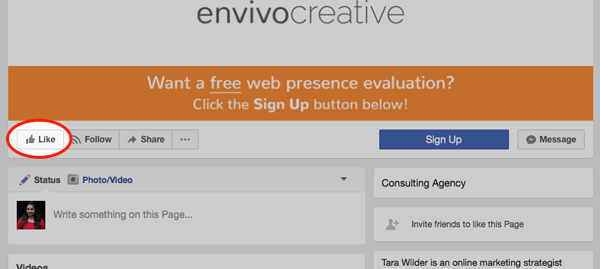 With Facebook Pages, you're able to follow pages without the administrators needing to accept or deny you (versus with profiles, you need to accept or deny friend requests).
How you should use your page
The purpose of your Facebook Page is to officially represent your business. Use the features on the page to share information about your business, your mission, your services, etc. You should also be posting value-based content along with promotional posts.
Tip
Facebook Pages now come with a lot of features to support the organizations in building a quality presence on Facebook. Take a moment and explore the different features available to you to customize your page.
Some features include having a "featured video" to always be at the top of your feed, the ability to pin a post to the top of your feed, and the ability to display specific services you offer and pricing.
Facebook groups
Facebook Groups are much different from Pages. I see Facebook Pages as you talking at your audience. With Facebook Groups, you are talking with your audience. It's a chance for you to cultivate a community of your own. It's basically a forum. I have one of my own. With Pages, people opt to "like" (or "follow") your Page. With Groups, they opt to "join". See the image below.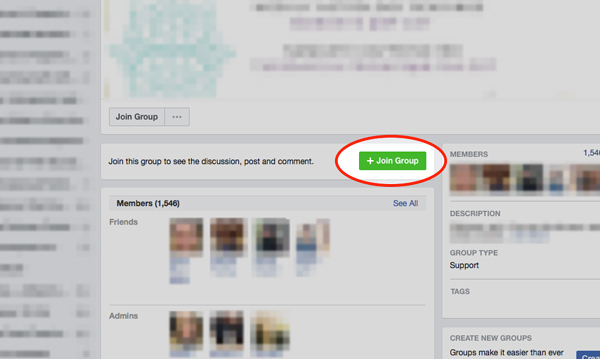 Another big difference is that Group members can post and it will show up in the same feed as your posts (as opposed to Pages where only your posts show up in the feed).
There are three different privacy settings for Groups:
Public – Anyone can find the group and see the posts without joining.
Closed – Anyone can find the group but they cannot see the posts unless they ask to join and an administrator approves their request.
Private – Nobody can find the group unless they are specifically invited or added by an administrator or existing member.
Tip
Regardless of what your goal is with your Group, you will need to be very active in order to be successful. Be prepared to invest a few hours a week to create original content, post, and interact with members.
If you have a Group already, post the link in the comments below! I'd love to see it.
Conclusion
You've learned now the differences between Profiles, Pages, and Groups and how each one is used. It's not necessary for you to have one of each, but when you're looking at how to use Facebook as a part of your online marketing strategy, do consider the purposes of each presence and which works best for you.
Do you have a business page or a Facebook group? Comment a link to it below!