For many of you, January offers a fresh start in a new year and is the perfect time to consider new business goals. If you want to really grow in 2016, you need to evaluate your marketing efforts and consider whether you are utilizing the most effective strategies out there.
Here's my number-one recommendation for you this year: Create, cultivate, and nurture an email list.
You may think that a website and social media presence are the current must-haves for your business. Think again. While social media can be a strong component of your overall marketing strategy, an email list gives you the opportunity to have 100 percent control over your subscribers, unlike your followers on Facebook, Twitter, and other social media outlets. Additionally, your list gives you the opportunity to provide value to your subscribers and convert them to paying customers in the future.
Even if you are ready to jump into the business world and sell a product or service, you may be a little gun shy about building an entire website right away. I recently had a conversation with a new entrepreneur who expressed her hesitation at creating a full-blown site. She was curious if there were other ways to build an email list without devoting a lot of time, energy, and money to the endeavor. The following is what came to mind right away.
Here are my tips on how to build a knock-out email list in just two simple steps.
Getting Started
What you need:
You just need two things to get started on an email list:
An 

email marketing service

One "squeeze" page on the Internet that's yours*
* Beware of Social Media "Webpages"
I don't recommend that you use a social media site to be your only page on the web. That's because these pages are full of distractions, and your viewers may have no idea what you want them to do.
For example, check out this Facebook page: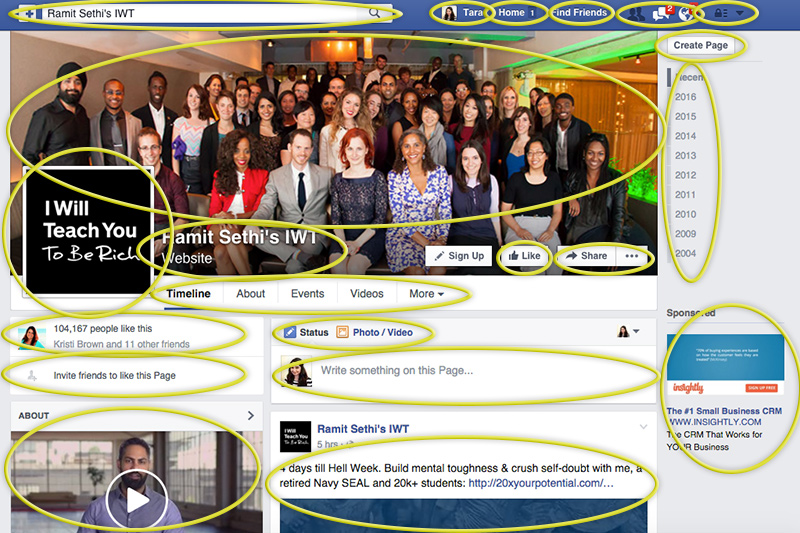 Notice the number of distractions on the page — ads, links in your posts and profile, the user's notifications, a search field. It's an exhausting and overwhelming page to view!
Look at how much space is devoted to the Sign Up. I did the math: the Sign Up button takes up 0.34% of the content on the page!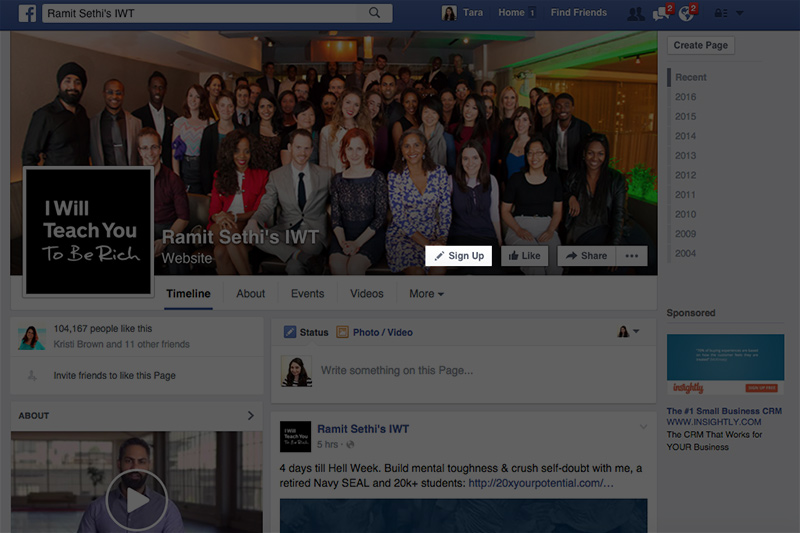 Choose Your Email Marketing Service
To really do email lists right, you need to invest in a service designed specifically for sending mass emails and managing subscribers. Here's why:
These services:
Provide free or low-cost options with opportunities to upgrade to more advanced tools;
Deliver information with sleek, customizable templates; and
Offer dynamic tools to collect, organize, and mobilize information from your subscriber.
Additionally, these services can automate your email blasts, integrate with other services, and produce reports on open rates and clicks. Plus they can help you avoid being marked as spam and filtered out of your subscribers' inboxes.
I recommend MailChimp (our favorite), Aweber, and Constant Contact, but there are many other services out there that can accomplish your email list goals. 
To sum it up: An email service will give you insights about your email marketing efforts. Knowing your customers and what they're reading and clicking will help you grow.
Create a Squeeze Page
A "squeeze page" is a highly focused webpage designed to capture email addresses.
Even if you lack a full-service website, you can market on the web. Use one of these simple services to create a squeeze page. With this, you will be ready to send out your first email marketing campaign!
WordPress.com
Companies of all sizes utilize WordPress.com. You can use its blog format to create a free web page. This easy-to-use service is similar to self-hosted WordPress, so when you've grown and need an entire website, you won't have to start from scratch. One downside is that your link will include .wordpress in it (for example, mybiz.wordpress.com). You'll have to pay to get a custom domain (it's usually just 10 to 12 dollars a year). If you want to know more about domains, read The First Step to Building Your Website: Domains and Hosting.
My tip: Make a WordPress page without a sidebar to streamline the page for your user. Don't forget the main goal of your squeeze page is to obtain email addresses, so keep it focused.
Email Marketing Service
If you've selected your email marketing service, there's likely an option to create a hosted form that can be your squeeze page. This page will have seamless integration with your email database, which is super convenient. However, just like WordPress, you won't get a custom domain without purchasing it. Another downside is that the hosted forms do not have a lot of customizable options. However, it is a free option that comes with the service you use.
My tip: If you're tech-overwhelmed, this one-stop-shop approach can be an easy way to jump into your first marketing campaign.
LeadPages
This fee-based service allows you to create different test pages to determine what's most effective for your target market (this is what we call "A/B" testing). The templates offered are tested for conversion rates, and you can sort by conversion rates and use the most successful ones. LeadPages is integrated with many email marketing services, so you won't have to stress about technical difficulties. We love LeadPages!
My tip: This is what I use for online marketing clients. Because of it's simplicity and that their templates have been proven to have good conversion rates, it is totally worth the money. Contact me if you'd like to use it.
Your Own One-Page Website
This option allows you to build from the ground up without having to design an entire website. You purchase your own domain and host. To create a simple page, install WordPress and a free, simple, and secure theme. You can come back to your work later and build a bigger site and create more content for it. However, you will need to pay for the site as you build it. See my article about the costs associated with building a business website here.
You can get a theme or a plugin that will create a squeeze page or a landing page. Here are a few articles from other blogs that can help you find a theme or plugin:
Remember to look at the ratings. Also, check to see if the theme or plugin has been updated within the last few months.
My tip: This gives you the option to grow your site without having to start from scratch. However, you may need to be more of a techie to achieve results without wanting to bang your head against the computer screen.
Get At It!
With just a little effort and time, you can target your online marketing efforts, cultivate subscribers, and grow your business. Don't just think about creating an email list. Just do it.
As always, you know we're here to help. Just contact us.