Lesson 2: Optimize Your Instagram Account
Instagram is primarily a mobile app platform. You can update some things on your computer but almost everything is accessible on the app so make sure you're working on there through this lesson.
Business Account
Your first order of business should be to create a Business account (aka a "Professional account") or convert your current personal Instagram to a Business Instagram account. The difference is that with Business accounts, you have a lot more features to help build brand awareness and you are able to advertise.
Before creating your account, read the section titled Username below.
If you DON'T have any Instagram accounts yet, click here to learn how to create a Business account.
If you have a personal Instagram account, click here to learn how to convert it into a Business account.
Username
Your username is different from your page name. It is what shows up in your page URL and also what people will type into the search to find you.
Your username does not have to be your exact business name but it should be somehow related. If your company is Bright Star Creative, your username could be brightstarcreative, BrightStarC, BRCreative, wearebrightstar, etc.
Pick a username that you can use across all social media platforms. If you have a hard time finding a username that's available on all major platforms, you can use slight variations (e.g. iamtarawilder / iam_tarawilder). However, it is much, much better if your usernames are the same. That way, when you are inviting people to check you out online verbally (on a podcast interview, in conversation, etc.), you can easily say, "You can find me on social media @iamtarawilder." 
Click here to learn how to change your username.
Contact info you can include with a business account
With business accounts, you can have buttons on your page to help guide people to contact you.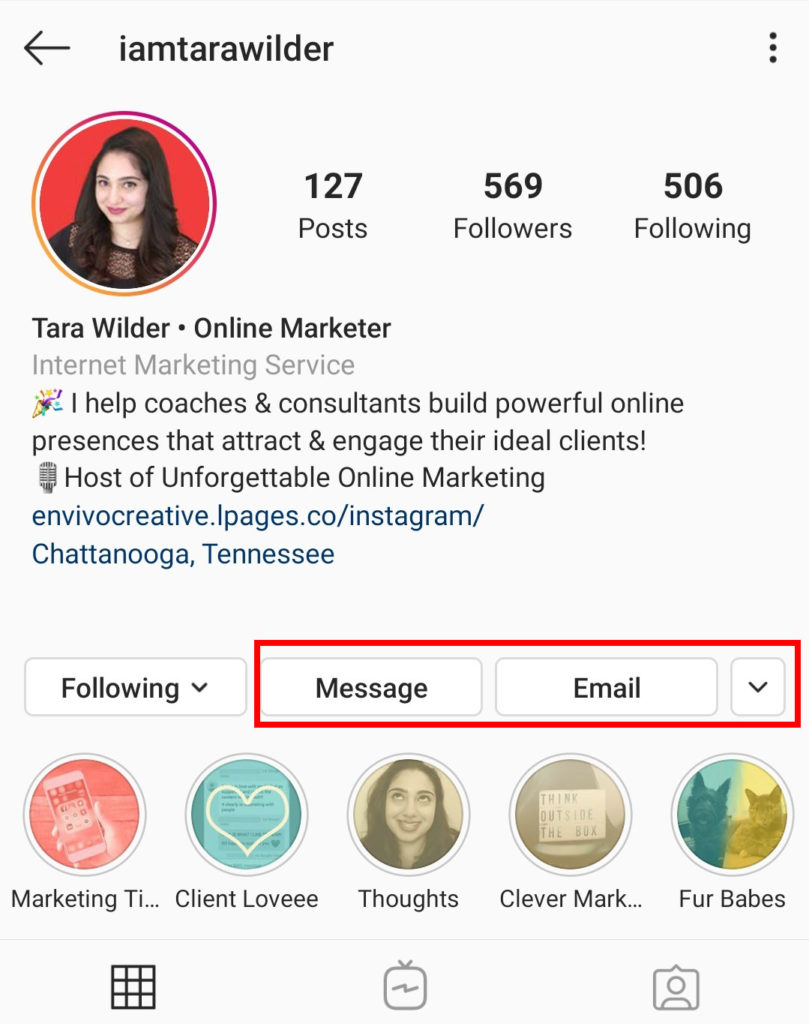 Make it as easy as possible for people to contact you. At the very least, include your email address. The message button will already be there so you don't need to do anything for that. 
Click here to learn how to add your contact information.
Page name
If you are a personal brand or the face of your company, make your page [YOUR NAME] – [TITLE]. If your business has a name, make it your business name. Whatever you choose for this page should be consistent among all of your social media platforms.
Mine is Tara Wilder • Online Marketing Strategist.
Address
Even if you can do business virtually, it's a good idea to specify the city or state where you are located. It helps for search engine optimization and it can help create connections with users that are from the same area. If I happen upon an account in the online space that happens to also be in the same city, I get excited because I wasn't expecting to have that in common with them. Now I'm more curious about them and might even reach out for networking purposes.
See the green box below for where your location will appear.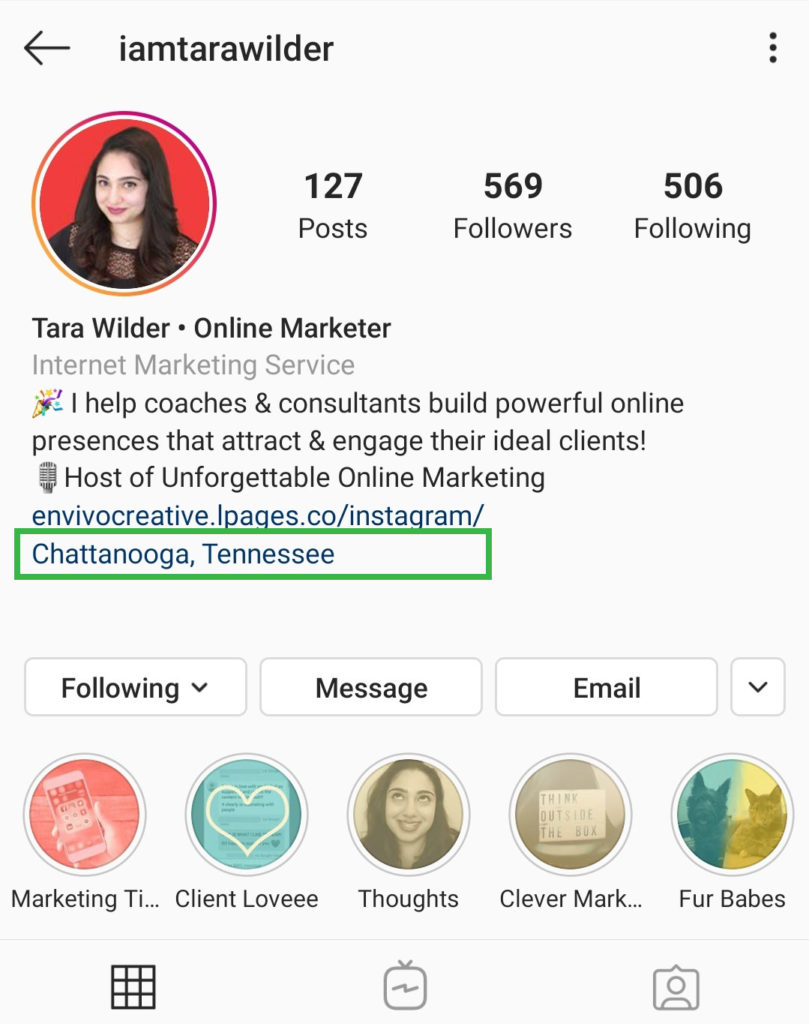 You can add your city and state on the same page you added your contact information. Just don't include a street address.
Profile Picture
For your profile photo, either choose your logo or your headshot. If your business name is different from your own, then what you choose depends on how you want to be seen. When my Facebook Page was named after Envivo, I had my headshot as the profile picture because I wanted to establish myself as the face of the brand.
Click here to learn how to change your profile picture.
Bio
It is incredibly important to put thought into your bio. You only have 150 characters to compel your target market to take action, follow you, and engage with you. Keep your bio focused on the transformation you cause for your ideal client because THEY are the hero in your story. You can also use your profile to build brand awareness and establish credibility.
Some choose to add a line in their bio promoting their lead magnet that's in the link in their bio.
I'll show you some examples. Please note that at the end of each example, there is a URL. That is the link in the bio. It is NOT a part of the bio itself.
My current one is:
🎉 I help coaches & consultants build powerful online presences that attract & engage their ideal clients!
🎙️Host of Unforgettable Online Marketing
envivocreative.lpages.co/instagram
Rachel Bell has a good one. She establishes credibility and explains who she serves and how. At the end, she gives a CTA to join her signature program, OCA. Right below her bio is a link to the program.
⋒ self-made millionaire by 24.
✧ I teach coaches how to create 6 figure businesses using social media.
❈ ft. @forbes, @incmagazine
↯ JOIN OCA…
onlinecoachaccelerator.com 
Amy Porterfield's bio:
Online Marketing Trainer 💡
Helping entrepreneurs build engaged email lists, digital courses, and profitable webinars. ✨
CHECK OUT MY LATEST!👇
linktr.ee/amyporterfield
Link
You may have noticed that links inside of photo or video captions are not clickable. The only clickable link on your account is your bio link.
There are two ways to get people to leave Instagram to engage with you elsewhere (e.g. blog post, freebie, website, etc.) You can put the URL in the caption of a post and they can type it into their browser manually or they can click the link directly in your bio.
The first option is VERY cumbersome for the user. Generally speaking, the more work someone has to do to complete a task, the less likely they are to complete it. That's why it's so important to make things stupid-simple for our potential followers and followers.
The best way to lead people off of Instagram is by prompting them to click the link in your bio. It only requires two very short actions: tap to go to your bio and tap the link.
You'll probably have a lot of links you'll want to share over time. So which link do you choose to put in the bio? You have two options:
1) You can change the link out depending on what your latest post is about. As a default, you should have your freebie as your bio link. If you don't have a freebie, then your website. If you don't have a website, then something else.
Then when your latest post has a CTA that leads them off Instagram, update the bio link and give them the CTA "click the link in my bio."
For example, when you post about your latest blog post, update your bio link to be a link to the blog post and in your post, say, "To read the blog post, click the link in my bio!"
2) Your second option is to create and use a link page on a third party platform. This is a simple page off of Instagram that has a collection of links (e.g. your freebie, website, latest blog post, etc.) Your bio link would be a link to this simple page.
If you've ever seen a Linktree page, you've seen what I'm talking about. Here is a screenshot of my old Linktree page. I don't use Linktree anymore and this page is old so don't model yours after this one necessarily.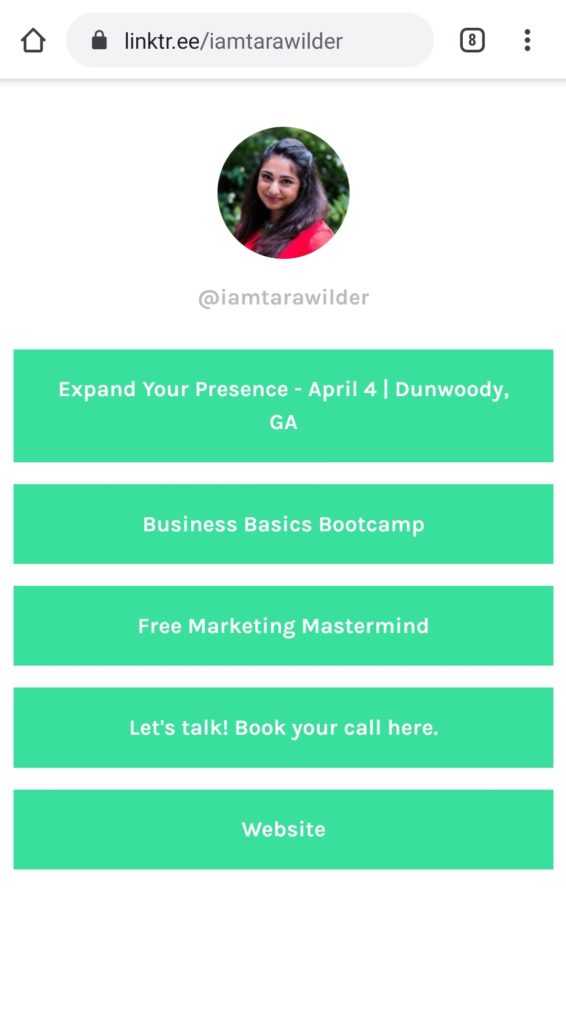 The basic version of Linktree is free to use. I'm not a big fan of using the basic version of Linktree because there's no visual hierarchy. All of the links look exactly the same. So what would you do to draw attention to the most important link?
You can upgrade to the paid version where you can make customizations. If you feel like going above and beyond, you can create your own custom page on another platform. I have a Leadpages account so I created a simple page there. Click here to see it.
My recommendation for your link page is to have no more than 4 links. You don't want to overwhelm your viewers.