Optimize Your Facebook Profile
Instead of a video lesson, this lesson is all written down for you. I am going to cover 3 areas of your Facebook profile that you need to optimize to get the best results.
While this program doesn't cover Facebook profile marketing, the growth strategies I teach for Facebook pages includes your profile. That means your profile needs to be in tip top shape!
Review all your information
Do this on your computer.
Go to the About section of your profile and review all the information. Add and remove whatever you want. You're doing a general clean up here.
Hover over any section you want to update and click the "Edit" link that shows up. The link may say something slightly different.
Very important: for many of the pieces, you will be able to select the privacy settings. For the pieces of information you are okay with the general public seeing (i.e. your target market), definitely set it as "Public." For everything else, set as "Friends." See below.

What you must have:
Your "job" as CEO/Founder/Whatever title at your company. You will select your business page as the company you "work for." This will create a clickable link.

Link to all your

active

social media channels. Leave out the ones you aren't active in.

Link to your website.

If you have a lead magnet landing page, link to that.

Under "About You" (which is basically your profile description), write something about your business: who you serve, how you serve them, and what transformation they experience when they work with you.
Intro Section
On the main page of your profile, there is a section called "Intro" (left sidebar, under your profile picture.) It has the most important pieces of info on it and luckily, you can customize it!
Keep this as lean as possible. Keep your target market in mind. What do they NEED to know? And more importantly, what DON'T they need to know? They likely don't need a list of allllll of your previous jobs, what high school you went to, etc.
Here is my intro: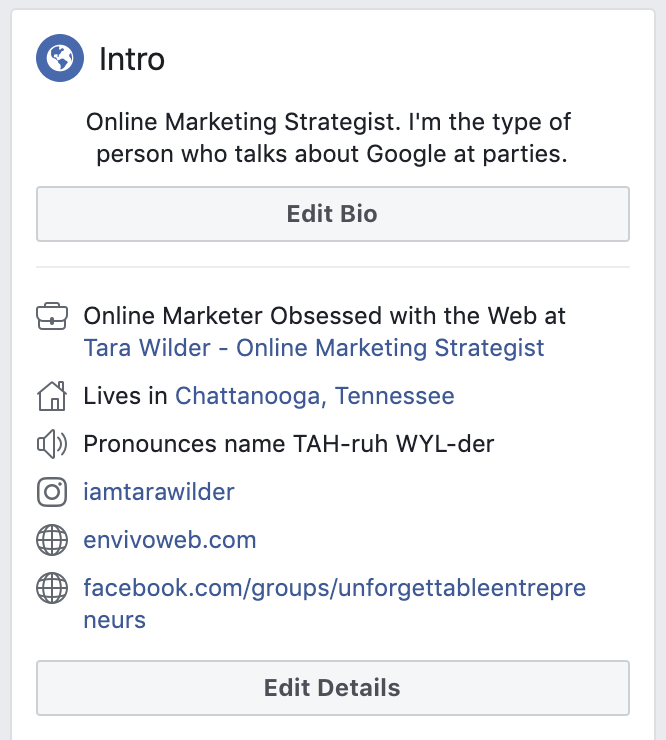 Click "Edit Bio" and "Edit Details" to customize your intro (see screenshot above.)
Cover Photo
Depending on how much you want to leverage your personal profile, I highly recommend creating a cover photo like one of the ones below. Ask yourself: how much do I want to invest in my personal profile to lead people to my business page?
Your cover photo should have an engaging tagline that says what you do, who you work with, and what transformation you cause for them.
Give a CTA to follow your business page.
Also add a text description to the cover photo that elaborates and add a link to your business page. Make sure the privacy setting is set to "Public."