Lesson 2: Optimize Your Facebook Page
Instead of a video lesson, this lesson is all written down for you. I am going to cover 9 areas of your Facebook page that you need to optimize to get the best results.
Create Your Page
If you haven't created a Facebook page yet, click here to start. Before you create your page, read the sections Username and Page Name below.
Username
Your username is different from your page name. Basically, your username is what you'll see in the URL of your page. See the image below for more explanation. The red boxes represent the username and the blue box represents your page name.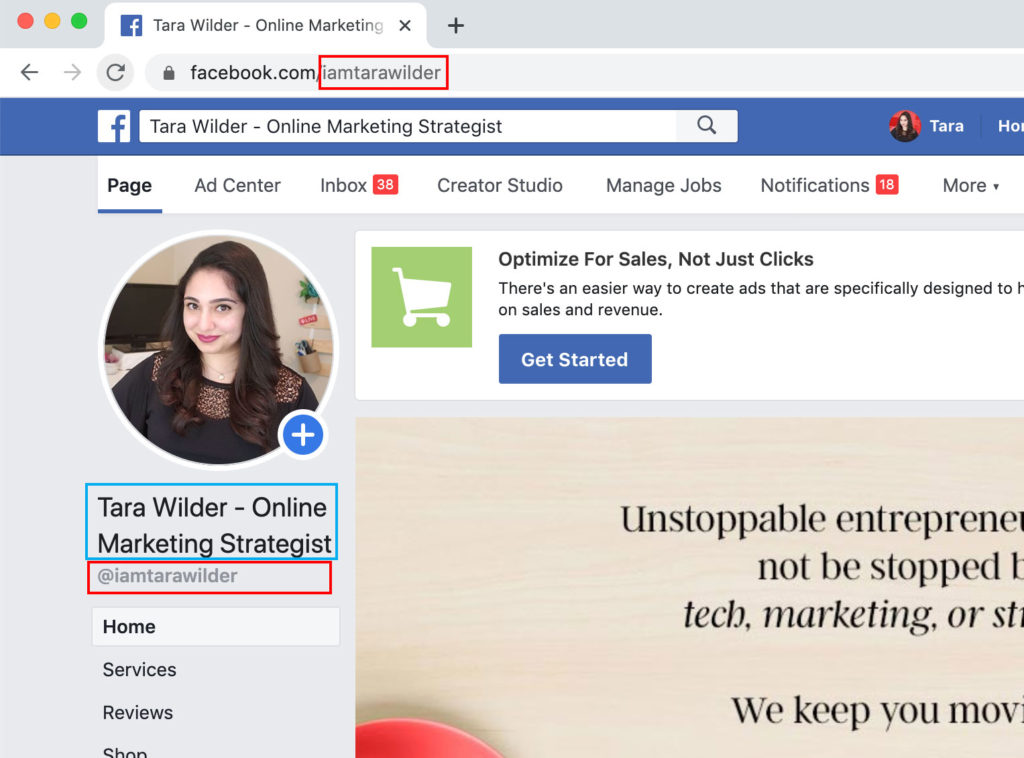 Your username does not have to be your exact business name but it should be somehow related. If your company is Bright Star Creative, your username could be brightstarcreative, BrightStarC, BRCreative, wearebrightstar, etc.
Pick a username that you can use across all social media platforms. If you have a hard time finding a username that's available on all major platforms, you can use slight variations (e.g. iamtarawilder / iam_tarawilder). However, it is much, much better if your usernames are the same. That way, when you are inviting people to check you out online verbally (on a podcast interview, in conversation, etc.), you can easily say, "You can find me on social media @iamtarawilder." 
Click here to learn how to change your username.
Page Name
If you are a personal brand or the face of your company, make your page [YOUR NAME] – [TITLE]. If your business has a name, make it your business name. Whatever you choose for this page should be consistent among all of your social media platforms.
Click here to learn how to change your page name.
Profile Picture
For your profile photo, either choose your logo or your headshot. If your business name is different from your own, then what you choose depends on how you want to be seen. When my Facebook Page was named after Envivo, I had my headshot as the profile picture because I wanted to establish myself as the face of the brand.
When people click your profile photo, they'll see a description just like they would with any other image. This is great real estate. When you upload your image, make sure you include a photo description. Insert a short description of your business with a call-to-action at the end. The CTA could be to follow your page, comment on your latest post, go to your website, download your freebie, etc.
Click here to learn how to change your profile picture.
Cover Photo
Your cover photo is the photo at the top of the page. It serves as a banner that serves a few purposes. The most important one is to capture the user's attention and compel them to take action, whether it's to follow your Page, engage, or sign up for something.
You can use this space to do a number of things:
Explain your business
Promote an event
Promote a lead magnet
Promote an offer
Highlight something special going on in your business
Your cover photo can actually also be a video. To keep things simple, make it an image for now.
Try to avoid throwing up a photograph and calling it a day. Use this space strategically. Here are some examples of great cover photos: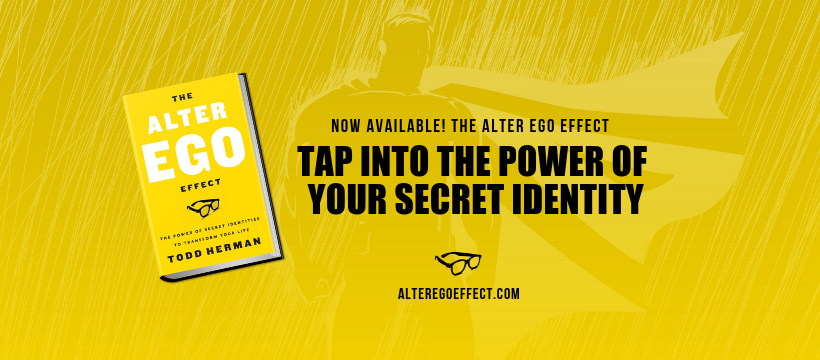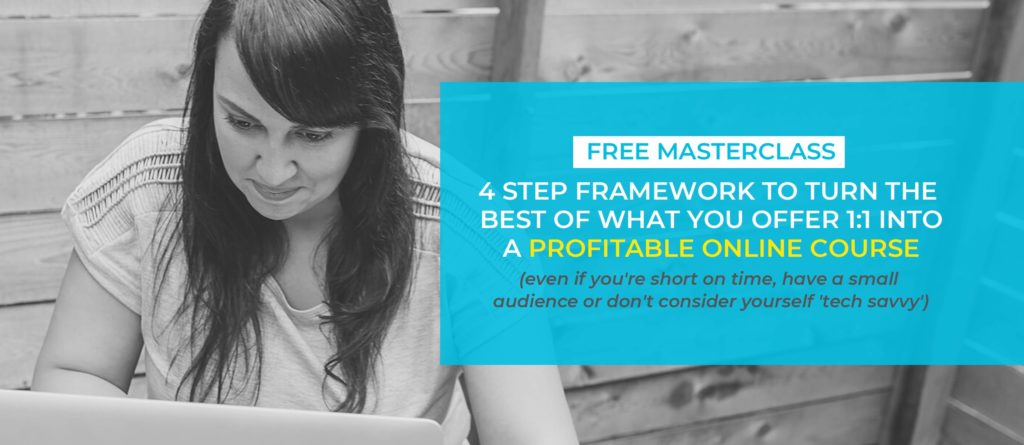 To create your cover photo, use any graphic design tool. I recommend Canva.
It's important you pay attention to the dimensions of the graphic you're creating. Unfortunately, cover photo size varies from desktop to tablet to mobile but you can only have one graphic. So how do you create one that looks good on all screens?
Check out this blog post that explains what the dimensions of the cover photo are on different screens and how to make a cover photo that looks great on all.
Don't get stuck on this. If it's taking you a long time to figure it out or you're getting frustrated, just create something with the basic cover photo dimensions and you'll be good.
As with your profile picture, you should add a description to your cover photo. If the photo is something general about your brand, include a paragraph or two that expands on what your cover photo is saying. If the photo is a CTA, then include a few sentences about the CTA and include a link for them to click.
Click here to learn how to change your page cover photo.
Tabs
There are tabs to the left of your Page that allow users to browse your Page (see screenshot below.) There are a LOT of different types of tabs you can have. It's best to keep this as clean as possible. Only keep tabs that are relevant and that you can put content in.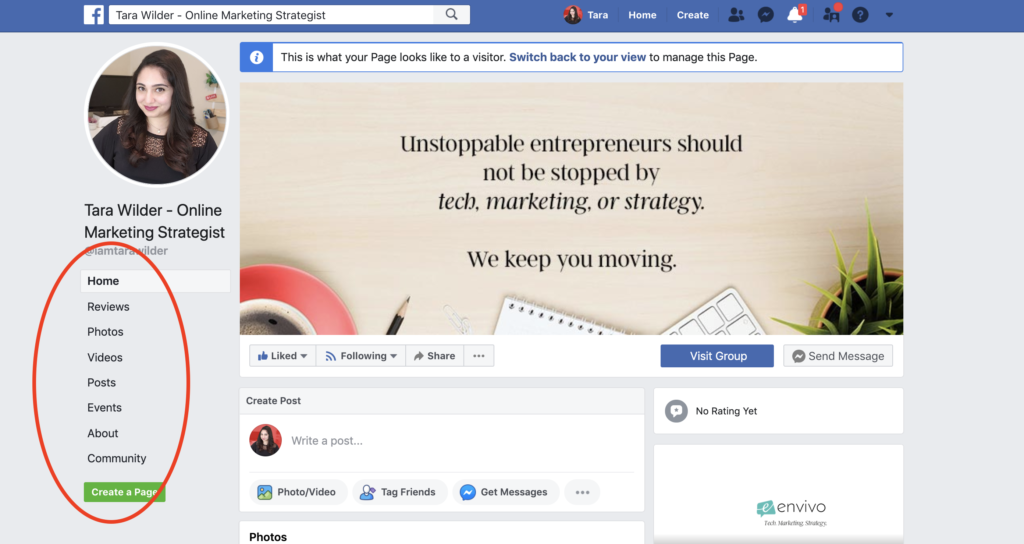 Click here to learn how to change your tabs.
Pinned Post
The content that appears on your timeline is in chronological order from newest to oldest. You have the ability to select one post to "pin" to the top. After you pin a post, it will always be the first post on the page no matter how many posts you've published after that.
This pinned post is one of the first pieces of content a user sees when they come to your page so use it wisely. You can make it a general "welcome" type post where you welcome them to your page and encourage them to follow or engage. You could also promote a freebie or share whatever offers you have.

Click here to learn how to pin a post. If you already have a pinned post, you'll need to unpin it first. To do that, go to the pinned post, click the three dots at the top right, and click "Unpin."
"My Story"
The "My Story" section is the right-hand sidebar on your page. See the red box in the screenshot below. This is DIFFERENT from your page Stories: the photos and videos you upload that only appear for 24 hours.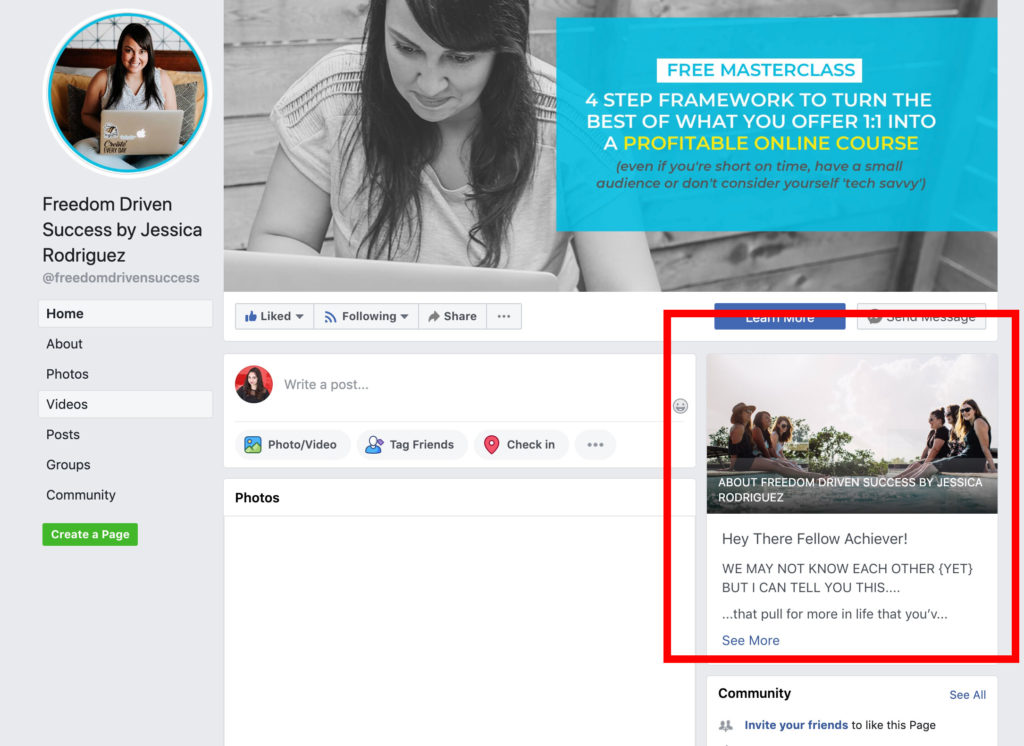 Think of it as a larger "about" section. You have the opportunity to upload an image and to include text. Use this section to share more details about your business: who you serve, how you serve them, and what transformation they experience. Give a CTA to either follow your page, check out your website, or check out a free or paid offer.
About section
The "About" section of your page is where you can put all sorts of information about your business.
To go to the About section, click "About" in the right sidebar (green box in the image below.) 
Then find the heading "About" and look to the right and click "Edit Page Info" (red box in the image below.)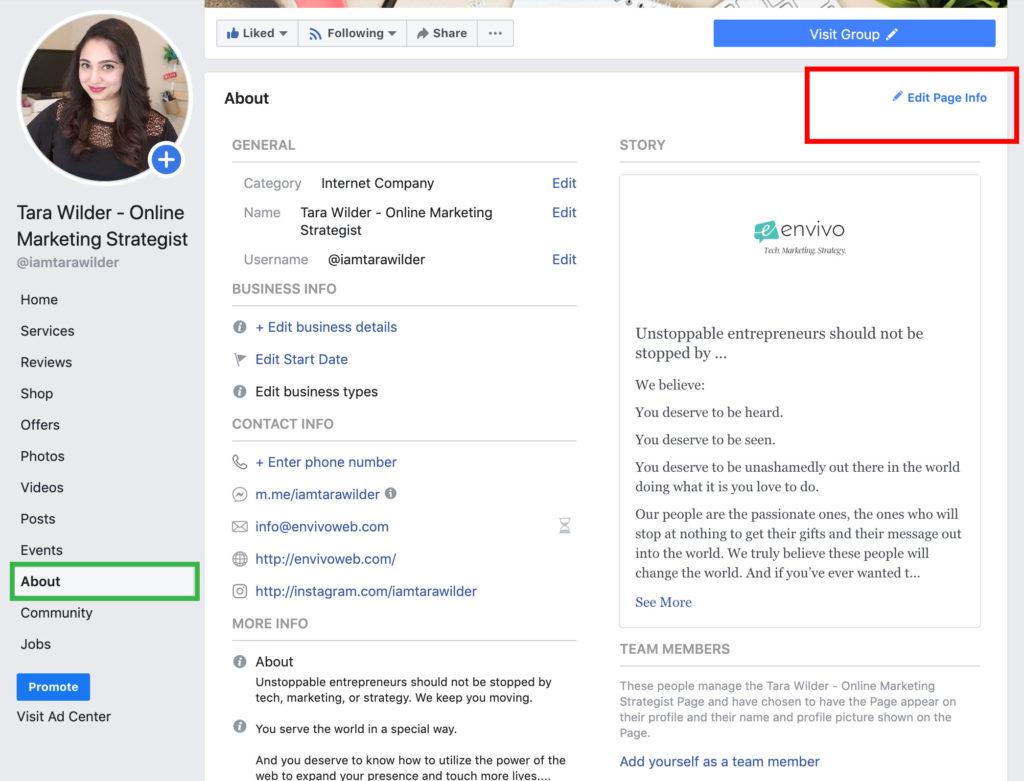 Now you can go on and edit different sections of this page. I recommend putting in as much information as you can. At the very least, have the description, website (if applicable), and email address filled in.
Messenger
What's cool about Facebook messenger is you can now have an autoresponder. When someone messages your page, your page will send an automated response back that says anything. This feature is called "Instant Reply."
Generally, I recommend having the message acknowledge that they sent a message, tell them when they can expect a response, and if there's a better way to contact you, tell them how. Mine says, "Hey there, NAME! Thanks for sending me a message. Our office hours are Monday-Friday, 12-6pm EST. If you need a quicker response, please send me an email at tara@envivoweb.com. Looking forward to connecting with you!"
This page explains how to set up Instant Reply.
There are a lot of other automated messages you can set up. Play around with it!